Volg je me al een tijdje, of ken je me persoonlijk, dan weet je wellicht dat ik een fan ben van de winkel action.
Ze hebben regelmatig leuke hobbyartikelen voor een zacht prijsje. Zie ik iets nieuws dat ik kan gebruiken in het scrappen of kaarten maken, dan test ik het graag uit. Ben ik tevreden, dan vertel ik dat ook, zo ben ik in staat mijn en jouw hobby betaalbaar te houden.
Ik heb het geluk (of de pech) dat er een winkel is in Heide aan het station. Als ik de vroege shift heb gedaan en ik kom terug van mijn werk kan ik het niet laten om een kijkje te nemen of ze nieuwe leuke hobbyspullen hebben.
Zo hadden ze onlangs dozen krijt, en ik schreef er een verslagje over.
Nu kreeg ik deze week een berichtje van een goede scrapvriendin dat ze terug de grote snijmat hebben in de action. (dank je wel Karin!)
Reden dus om nog eens naar de action te gaan. Het trof dat ik vandaag de vroege had en dat ik er langs kon gaan.
En ja hoor, het was weer prijs 🙂
Ze hebben inderdaad terug de snijmat in A3 formaat voor géén geld!
A3 formaat wil zeggen: 30cm op 45cm. Ideaal om op te scrappen dus.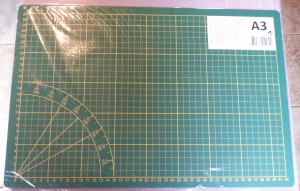 De prijs: 1,79€, belachelijk goedkoop dus.
Het enige minpuntje is dat ze vrij dun zijn, de helft van mijn gewone snijmat. Of dit zich tot een nadeel gaat ontwikkelen?
Ik denk het niet. Ik heb tenslotte in mijn andere snijmat nog nooit een snee gemaakt zo diep als de snijmat zelf, de sneden blijven steeds vrij oppervlakkig.
Ze zullen ook voornamelijk gebruikt worden als onderlegger bij het scrappen, en niet zozeer als snijmat zelf.
Ik heb dus alles vertrouwen in deze snijmat.
Wel zal het zaak zijn om de snijmat steeds mooi vlak op tebergen, maar dat is net zo bij mijn andere snijmat.
Mocht de snijmat dan toch eens niet zo vlak zijn opgeborgen, dan krijg je het wel terug in orde door de snijmat een tijde vlak te leggen en wat gewicht erop te plaatsen (en met gewicht bedoel ik dan wat scrappier en albumpagina's, die hebben we toch genoeg ! )
Heb je een action bij jou in de buurt, dan loont het zeker eens de moeite om er langs te gaan.
Weet wel dat het assortiment veranderlijk is. Wat er vandaag is, kan morgen voorgoed verdwenen zijn. En bij de hobbyspullen heb ik gemerkt dat het soms heel snel kan gaan.
Heb je dus nog geen snijmat in je basismateriaal, dan is het misschien nu tijd om er eentje héél voordelig aan te schaffen!
Heb je geen action bij jou in de buurt, maar heb je toch interesse in de snijmat of andere materialen? Geen probleem, ik kan ze altijd voor jou halen (indien nog voorradig natuurlijk), en ze opzenden naar jou, eventueel samen met een bestelling van azza materiaal. Ik doe dit graag voor jou, en het is geen moeite, daar ik bijna wekelijks langs de action kom. Stuur me dan gewoon een mailtje !
Lieve groetjes
Hilde van scrapilde
Happy scrappy greetings