Het sjabloon vitrail bestaat uit 2 totaal verschillende sjablonen.
De ene heeft heel onregelmatige vormen, en tot nu toe kan deze me niet echt bekoren.
Sjabloon vitrail, een blijver !
Maar het andere sjabloon is voor wat mij betreft een echt blijvertje voor wie van rechte vormen houdt.
In een ommezien heb je enkele pagina's bij elkaar gescrapt.
In dit bericht laat ik je enkele pagina's zien die ik met het sjabloon vitrail maakte.
Het is een eigen ontwerp dat gaandeweg ontstond.
Ik heb gekozen voor 2 losse pagina's in de kleur mist.
De eerste pagina heb ik bijgesneden volgens het sjabloon, zo krijg je al een kleine inkijk op de volgende pagina.
Dit ziet er dan als volgt uit:
Hier zie je enkel de voorkant van de eerste pagina:
Ik gebruikte 1 liggende en 1 staande foto in het standaardformaat 15X10 cm
Soms wil ik niet teveel van de foto wegsnijden, en met het sjabloon vitrail kon ik een maximum van deze foto's bewaren.
Voor de afwerking maakte ik gebruik van enkele stukjes achtergrondpapier in de kleur midgreen.
Om de hardheid van de kleur te temperen, chalkte ik dit bij met wit krijt.
De overige delen van het sjabloon werden erbij getekend met een bruine stift, of de vorm werd gechalkt in twee tinten krijt (groen en buin)
Voor het etiket op de voorpagina inspireerde ik me op de dubbele pagina uit mijn album 'Winningen'
De achterkant van de pagina ziet er als volgt uit: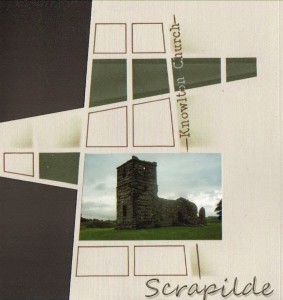 Zoals je ziet gebruikte ik hier maar 1 liggende foto.
Uiteraard zie je hier dezelfde techniek van afwerking als deze van de voorkant.
Het sjabloon vitrail werd niet helemaal opgevuld, Ik liet enkele lege ruimtes over.
Zo kreeg ik een effect in de hoogte, die de toren op de foto accentueert.
De naam van de plaats werd met behulp van een lettersjabloon naast de vorm geschreven.
Voor de derde pagina heb ik het sjabloon vitrail  bijna zo goed als volledig opgevuld.
Dit deed ik met 3 liggende foto's, stukjes achtergrond, en enkele vormen die ik erbij tekende.
Het overgebleven middelste deel van het sjabloon werd gevuld met krijt.
Het zijn 2 pagina's die in mijn album van Engeland thuishoren.
Ze tonen een ruïne, die werd omgeven door spookverhalen en deze heb ik neergeschreven in het middelste vlak van de 3de pagina.
De onderkant van de bovenste foto op die pagina werd schuin bijgesneden, doch zonder mijn benen eraf te knippen.
Ik knipte netjes rond mijn benen. Door dit te doen kwamen mijn benen op de foto eronder terecht.
En zo is het nu of ik op de middelste foto lijk te zweven als een spook, een knipoog naar de plaats die we bezochten.
Happy scrappy greetings