In deze rubriek  op woensdag laat ik een pagina zien uit mijn beginjaren, een golden oldie dus.
Het waren de overgangsjaren van azza. Het moment dat azza overstapte van losse vormen naar "echte" mallen. (Wat uiteindelijk het scrappen veel eenvoudiger en toegankelijker maakte)
Je begrijpt dus dat je in deze rubriek vooral pagina's zal zien die gemaakt zijn met een oudere mal.
De voorbije 14 weken kwamen de pagina's aan bod die ik gemaakt heb door losse vormen samen te brengen.
Vanaf week 15 komen de pagina's aan bod die gemaakt zijn met een mal.
Mal Reve
Om te beginnen met de mallen laat ik enkele pagina's zien gemaakt met de mal Reve. Deze mal kreeg later de naam Nature. De kit waarin deze mal zat kreeg ook enkele gedaanteverwisselingen. Tot op 2018 is ze nog steeds verkrijgbaar.
Het is dan ook een basis mal die je voor alles en nog wat kan gebruiken. Kom je er niet uit, neem dan deze mal. Een opmaak met deze mal past altijd bij je foto's of onderwerp.
Ik heb de Reve dan ook veelvuldig gebruikt .
Simpel, maar steeds anders
De pagina's maakte ik als voorbeeld voor de "make and takes". Zo kon ik de mensen laten kennis maken met de eenvoud van het werken met een mal. De opmaak is dus bewust heel laagdrempelig gehouden. Dit wil echter niet zeggen dat de pagina's daarom minder mooi zijn. Ze zijn de perfecte instap naar het scrappen met mallen.
Het decor werd daarom ook bewust simpel gehouden.
En ik kijk nog steeds met veel plezier terug op deze pagina's.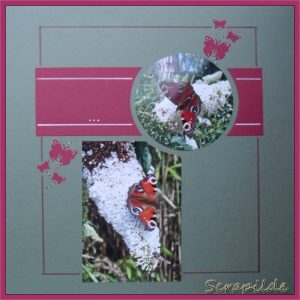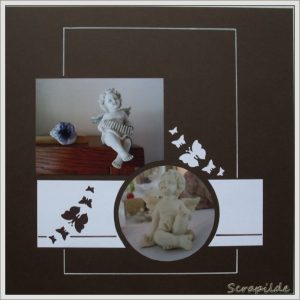 Happy scrappy groetjes
scrapilde alias Hilde
Happy scrappy greetings