Een eerste voorbeeld met het gabarit Essentiel is een feit.
Het voorbeeld dat ik maakte is er weer eentje voor in het album 'de kindjes'
Jaja, die twee blijven een zaligheid om foto's van te maken en nog zaliger om er een pagina van te maken !
Het werd een zomerse pagina, in vrolijke kleuren, want dit kunnen we nu wel gebruiken, niet?
Gabarit Essentiel
Voor het voorbeeld gebruikte ik het gabarit Essentiel.
Deze heeft als ref. Gab 722 en is te koop vanaf 1 juli, maar je kan hem al ontdekken in de zomercatalogus van azza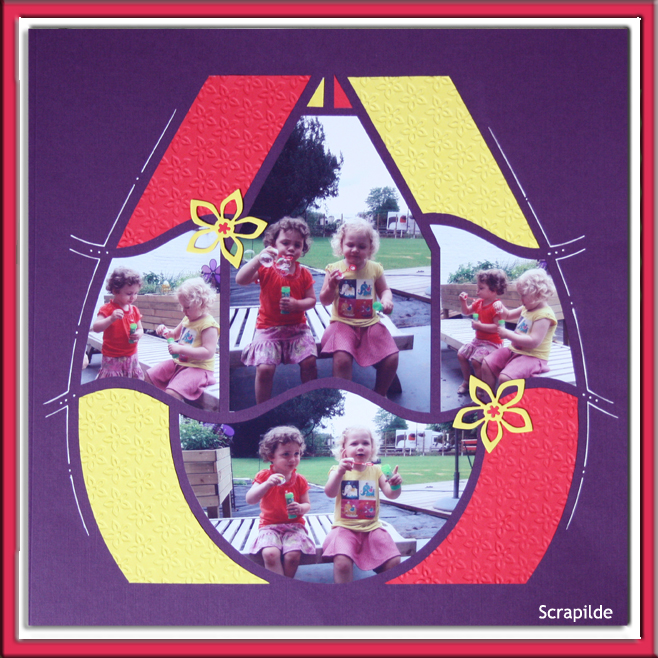 Om deze pagina te maken heb je volgende foto's nodig: 1 staande en 1 liggende foto nodig. En 2 staande of liggende foto's waar wat kan van bijsgesneden worden.
Het standaardformaat 10×15 voldoet.
De pagina maken is heel eenvoudig gehouden en snel te realiseren:
De buitenste vormen van het gabarit Essentiel werden netjes gevolgd,
De ronde binnenvorm werd voor de onderste foto gevolgd. Ook voor het bovenste gedeelte van de staande foto werd de binnenste vorm gevolgd. Deze foto legde ik netjes in het midden van het sjabloon. Zo is er links en rechts evenveel ruimte voor de overige twee foto's.
De foto's werden op een pagina in de kleur 'amethyst' gekleefd. De diepe rijke kleur van deze pagina gaat mooi samen met de felle kleurtjes van de kindjes
Afwerking van de pagina
De lege plekjes in het gabarit Essentiel werden opgevuld met twee kleuren achtergrondpapier.
Voor de kleuren baseerde ik me op de kleuren van de kledij van de kindjes.
Ik had het braafjes kunnen houden en het roze van hun beider rokjes kunnen nemen. Maar deze keer wou ik echt voor iets vrolijk gaan. Vandaar mijn keuze voor de rode en de gele kleur.
De stukjes papier werden in een embossingfolder gestoken en door de big shot gehaald.
Hierdoor maak je reliëf op het papier. Je kan dan kiezen of je de positieve of de negatieve indruk gebruikt. Ik heb hier gekozen voor de negatieve.
Ik heb verder geen bewerkingen gedaan met krijt of inkt. Zo blijft de vrolijke kleur behouden
Wel heb ik nog twee bloemen gestanst en deze in 3D opgekleefd.
De vorm van het gabarit Essentiel werd nog eens benadrukt door de lijntjes in een witte gelpen
Deze pagina is een eigen, unieke creatie. Ik mag hopen dat deze pagina je inspireert!
Reageren mag nog altijd onderaan de pagina 🙂
Creatieve en vrolijke groetjes
Hilde van scrapilde
Happy scrappy greetings