Deze pagina's horen thuis in het album 'Nederland'.
Ze zijn allen digitaal gemaakt met de software van studio-scrap.
Studio-scrap, een handig hulpmiddel
Als je digitaal wil scrappen kan je gebruik maken van verschillende software. Heel dikwijls wordt er gebruik gemaakt van photoshop.
Zelf heb ik het softwarepakket van Studio-scrap aangekocht. Dit is een hoofdzakelijk franstalig programma. In het begin is het een beetje zoeken hoe het werkt. Maar eens je er de pak van hebt, laat het zich vrij gemakkelijk bedienen.
Je kan in studio-scrap een bestaande lay-out gebruiken, maar je kan ook volledig je eigen lay-out maken.
Ik koos natuurlijk voor dit laatste.
Opbouw van de pagina's
De inspiratie kwam van mijn eigen pagina's in de mozaiek-techniek, waarvan je hier een voorbeeld terug vindt.
Ik heb met dit idee in het achterhoofd verschillende pagina's gemaakt.
Het was even een puzzelwerk om alles in studio-scrap mooi uitgelijnd  te krijgen. Ook het uitpuzzelen van de juiste tussenruimte nam wat tijd in beslag. Maar door meer met het programma te werken word je er ook handiger in. Ik ben er dan ook gerust in dat dit in de toekomst allemaal veel vlotter zal verlopen.
Doordat ik de mozaiek-techniek heb toegepast, gebruik ik alleen maar rechte lijnen.
Dit maakt dat van deze pagina's ook heel gemakkelijk een papieren versie kan gemaakt worden, wel komt er een beetje rekenwerk bij te pas.
De kleine blokjes zijn 3x3cm of 2,5×2,5cm En per blokje hou je 0,5cm tussenruimte aan. De rest is gewoon kwestie van wat rekenwerk en alles mooi uit te lijnen. In één van mijn volgende post zal ik een tutorial plaatsen van hoe je gemakkelijk zo'n papieren versie maakt.
Afwerking van de pagina's
Doordat ik digitaal scrap, kan ik de kleuren van de pagina's perfect aanpassen aan de kleuren van de foto's. Net zo handig 🙂
Voor de blokjes heb ik twee verschillende motiefjes gebruikt
De foto's en de blokjes heb ik een 3D effect gegeven door schaduw toe te voegen.
De voorbeelden:
De voorbeelden die je hieronder ziet zijn telkens 2 pagina's naast elkaar. Bedoeling is dat ik mettertijd deze pagina's in een fotoalbum laat afprinten. Daarom dus dat ik ze zij aan zij heb gemaakt
Laat je even weten of je de pagina's leuk vindt?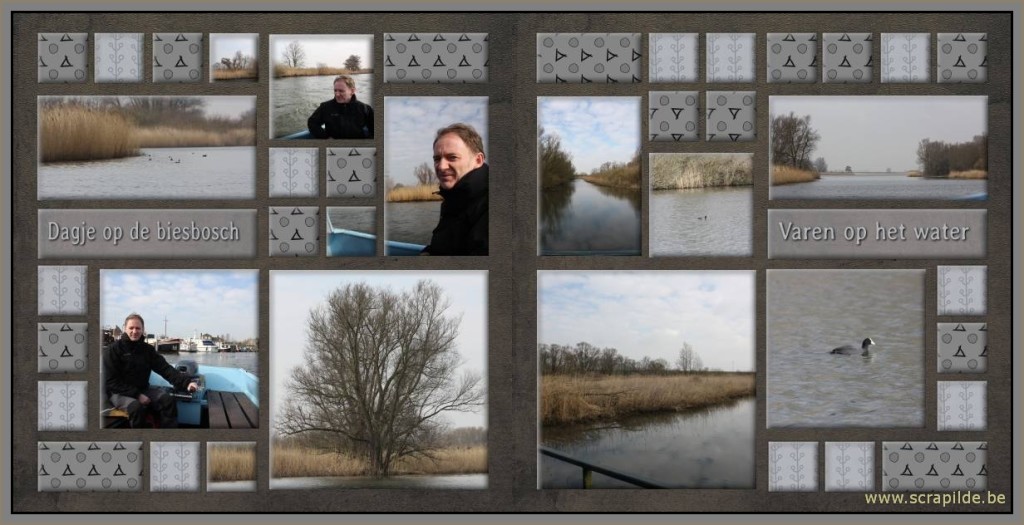 Happy scrappy greetings