De mal uit de kit Be Azza Joue werd gebruikt om een dubbele pagina te maken. Lees verder en ontdek hoe deze pagina's tot stand kwamen.
Be Azza Joue, geen gemakkelijke tante.
Azza staat bekend om zijn gemakkelijke manier van scrappen. Maar soms brengt azza ook al eens een moeilijkere mal uit.
Vooral mallen met veel kronkels vergen wat precisiewerk. Ik raad ze dan ook niet aan als je nog maar een beginnende scrapper bent, of als je problemen hebt om heel precies te knippen.
Heb je daar allemaal geen problemen mee, dan kan je prachtige resultaten bekomen, net omdat de kronkels voor verrassende effecten vormen.
Met de mal uit de kit Be Azza Joue is het niet anders.
Ik heb er dan ook een haat-liefde verhouding mee.
Maar toch, om de zoveel tijd, ga ik er eens voor zitten en haal ik de mal De mal Be Azza Joue nog eens boven.
De voorbeelden
Hier gebruikte ik de mal  Be Azza Joue om enkel pagina's van de kleintjes te maken.
Voor elk van hen maakte ik een dubbele pagina van hun verjaardagsfeestje.
Het idee had ik ergens opgepikt, maar ik weet niet meer waar.
Voor de kleurenkeuze van de pagina liet ik me leiden door de achtergrond op de foto's, en zo kwam ik bij de ene bij naturel uit, en bij de ander bij antraciet.
De voorflap werd bijgesneden volgens de lijnen van het sjabloon Be Azza Joue. De foto's op de binnenzijde werden ook op deze manier geknipt. Door dit te doen zorgde ik voor een goede samenhang van de pagina's onderling.
De kleurkeuze van de afwerking werd dan weer bepaald door het jurkje van het feestvarkentje.
Die kleur gebruikte ik zowel in het papier als in het krijt.
Voorts gebruikte ik enkele stempels. Deze haalde ik bij boekenvoordeel weg.
Heb je voor je afwerking kleine rondjes nodig? Gebruik dan, net zoals ik, een pons, want niemand kan een perfect rondje knippen.
Voor de voorpagina gebruikte ik 1 foto en voor de binnenzijde 6.
Ik had dus in totaal 7 foto's nodig per dubbele pagina. De foto's zijn allemaal liggende foto's en in standaardformaat (15X10cm)
En dan nu de voorbeelden:
De voorkant: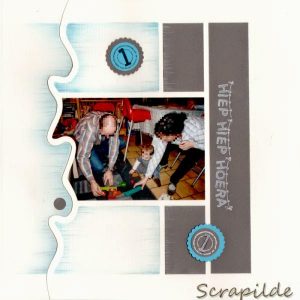 En de binnenzijde: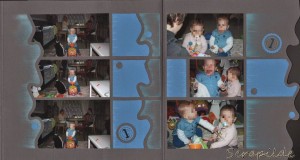 Happy scrappy greetings