In dit bericht laat ik je een je een pagina zien gemaakt in de europese scrap-stijl.
In het bijzonder eentje gemaakt met een sjabloon van Azza, nl het sjabloon Sofia Lima
De pagina hoort thuis in het album van Engeland
Voor de pagina gebruikte ik 4 foto's
Decoratie
De mal verscheen reeds in 2014, en van die tijd is deze pagina.
Een iets oudere pagina, en zoals je kan zien was ik nog niet zo bedreven in het inkten als nu.
Wat ik nog steeds doe, telkens ik wil krijten of inkten op mijn pagina is dit: Ik probeer het eerst op een kladje.
Zo kan ik gelijk zien hoe zwaar ik van hand ben die dag. Want geloof me, het scheelt van dag tot dag. De ene dag ben je lichter, de andere dag zwaarder, en dit geeft telkens een ander resultaat.Ook de verschillende kleuren onderling gedragen zich anders. De ene kleur toont al gauw harder dan de andere.
Ook kan je bij inkt dan zien hoe nat hij is. Hierdoor zie je onmiddellijk of je meer of minder inkt op je sponsje moet nemen.
Dus door eerst eens een profeje op een kladje te maken heb ik al menige pagina's netjes kunnen afwerken
Dus eerst een proefje op een kladje maken, en voorts: oefenen, oefenen, oefenen !
Hieronder nog een detail van het gestempeld figuurtje: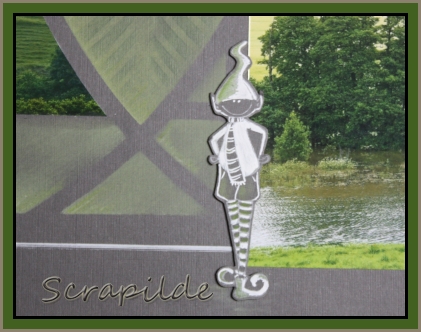 Happy scrappy greetings,
Hilde-scrapilde
Happy scrappy greetings